When you first use Blocs you will be asked if you would like to run the 5 day trial or activate your license. If you have purchased a license from the UI Store then you will have received a license number via email, take care not to mix this up with your purchase key which is printed on your purchase invoice, that is not your license number. Your license number will come in a separate email.
Activating Your License 
Activating your Blocs license is really simple. When you choose to activate your license, you will be presented with the License Details window.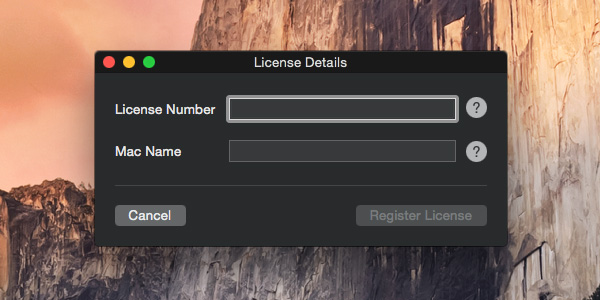 In the first input field labelled License Number, enter the license number you received via email. In the second input field labelled Mac Name, enter a descriptive name for the Mac computer you are currently activating the Blocs application on e.g. Norms-iMac. The Mac name is used so you can personally identify the computer systems using your license when you manage your licenses via the customer panel at the UI Store. Try to keep your Mac name simple and avoid using non alphabetical characters such as apostrophes and numbers.