Drop mode is a work mode that allows you to rapidly add content to your pages.
Enter Drop Mode
To enter drop mode Left Click the drop icon in the main toolbar or press the D key.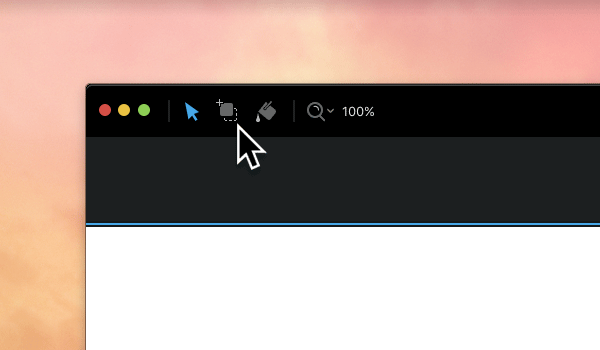 Placing Brics onto Page
When you enter drop mode the sidebar options will automatically hide to make your workspace more clear and focused on adding new content, you will also notice the drop bar will rise from the bottom of the app's window. The drop bar contains eight icons, these represent the interchangeable Bric storage spaces that can be used to store the Brics you plan to use when building your web page. The currently active storage space will be highlighted with a darker tone.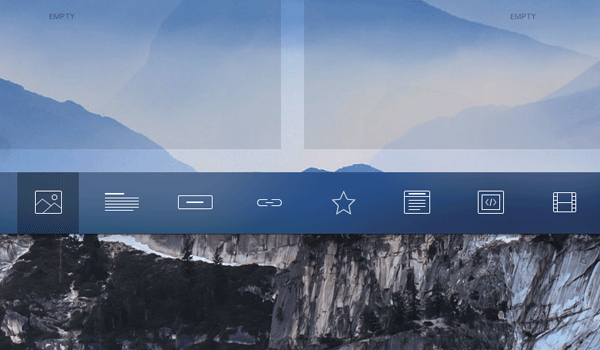 When in drop mode the mouse cursor will change to represent the object that will be added to the page when you click. If you move the mouse cursor above or below an already placed Bric on a page, you will see a thin blue line appear. This marker indicates the location that the Bric will be placed i.e. above or below said Bric, if the area does not yet contain a Bric, the entire area will become highlighted when the mouse cursor is over it. When the blue line marker or fully highlighted section is visible a Left Click will place a Bric onto the page in that location.
Activating Other Bric Spaces
To activate another Bric space you can either Left Click on it, use the number keys 1 2 3 4 5 6 7 8 on your keyboard or Right Click anywhere on the Blocs canvas when in drop mode and use the contextual menu which lists available spaces.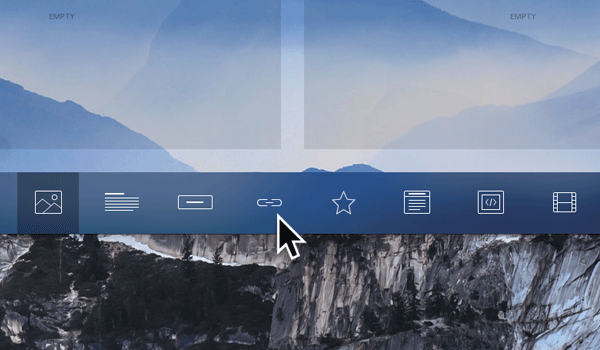 Bric Library
There are many different types of Brics available to use in your page designs, all of which is stored in the Bric library. To access the Bric library, move the mouse over the Bric bar and you will see a small plus button appear in the bottom right corner of the screen, click this button or alternatively, press the number 0 key on your keyboard.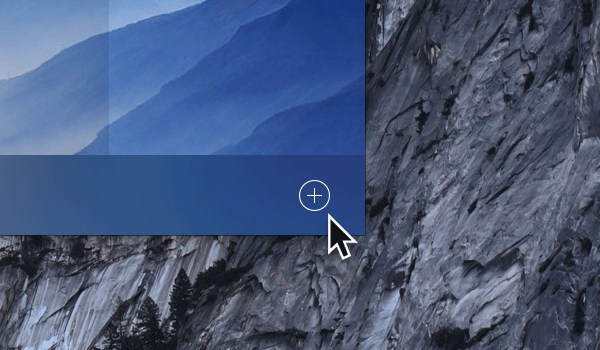 To hide the Bric library press the number 0 key or hit Return on your keyboard.
Changing Bric Spaces
When the Bric library is open, a Left Click on any of the Bric option tabs from the library will cause that Bric to be stored in the currently active Bric storage space. While this menu is open you can still select any of the Bric storage spaces, making it possible to change any of the Brics stored in all eight spaces.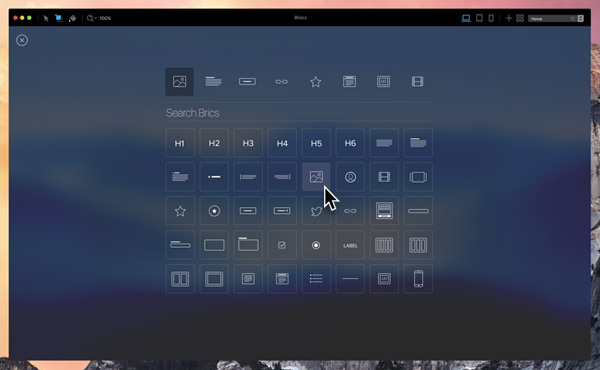 Exit Drop Mode
To exit drop mode, Left Click the arrow button in the toolbar or press the D key.